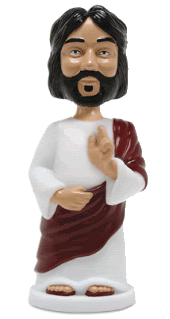 My Prayer:
Dear sweet plastic bobble headed baby Jesus,
please hear this, my prayer of humble supplication.
Thank you for the many bountiful blessings, like butterflies, big milky breasts and race cars with guns.
Please, please Jesus, allow me to finally complete the post that I started two days ago regarding the fancy candle and the bar of soap.
Do, please give me 1,000 hits in one day on this your loyal and faithful blog, even if it means 999 hits on a picture of Dita's itchy brown eye.
Please bring peace and joy to my family.
Please give me my own strip club, something cool, sweet bobbling baby Jesus, like Union Jacks.
Oh, and tiger. A big one.
And a machine gun.
Oh yes, oh Lord, and please kill George Lucas.
oh, and Dick Cheney too...
Please forgive me of my sins, dear Lord, although I have excuses for most of them. And I'm serious about the George Lucas thing.
Amen.