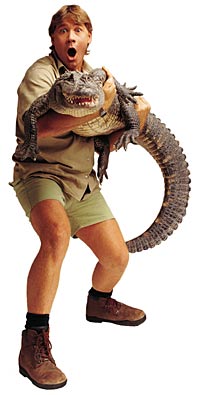 This is the last of the rhyming titles.
Unfortunately, this one will also mostly write itself.
Crocodile Hunter, Steve Irwin, was killed today, apparently by a stingray barb to the heart, while filming on Batt Reef, near Port Douglas, Queensland, Australia. He is survived by his wife Terri (from Oregon!), daughter Bindi Sue, 8, and son Bob, 3.
Sure, Steve was a lunatic, but we've all gotten stuck while channel surfing to watch him chase "the most dangerous snake in the world," and we all could do the same bad impression: "Crikey!"
I suppose a guy who makes his living wrestling 14-foot crocodiles, and picking pit vipers up by the tail, has to have a stunted life expectancy, but come on, a stingray??
Many of us wondered whether it was all real. Just how much control was there? How much danger was he really in?
Well, now we know.
Goodbye Steve. Thanks for the adventure!
Reading for Comprehension:
1. What's the biggest reptile you've wrestled?
2. Have you ever perfected your own personal death roll?
3. Cage match: Crocodile Dundee vs. The Crocodile Hunter?